BCM Wins the All Star eTender Service Provider of the Year Award
BCM assists state or semi-state bodies to comply with government eTendering procurement guidelines, as experts in this field having worked in this area for organisations for the last 20 plus years.
BCM provides a full end-to-end service including assistance with specification, design of scoring matrices, preparation of legal documents, tendering, answering of queries, examination and clarification of tender responses, preliminary scoring, supplier interviews, communication with successful/unsuccessful suppliers, etc. A reciprocal service provides support to clients who wish to respond to an eTender.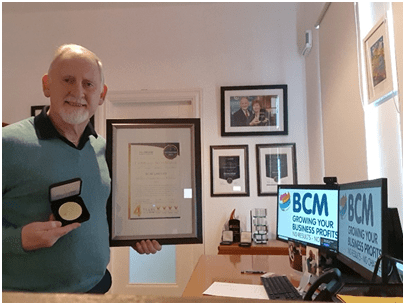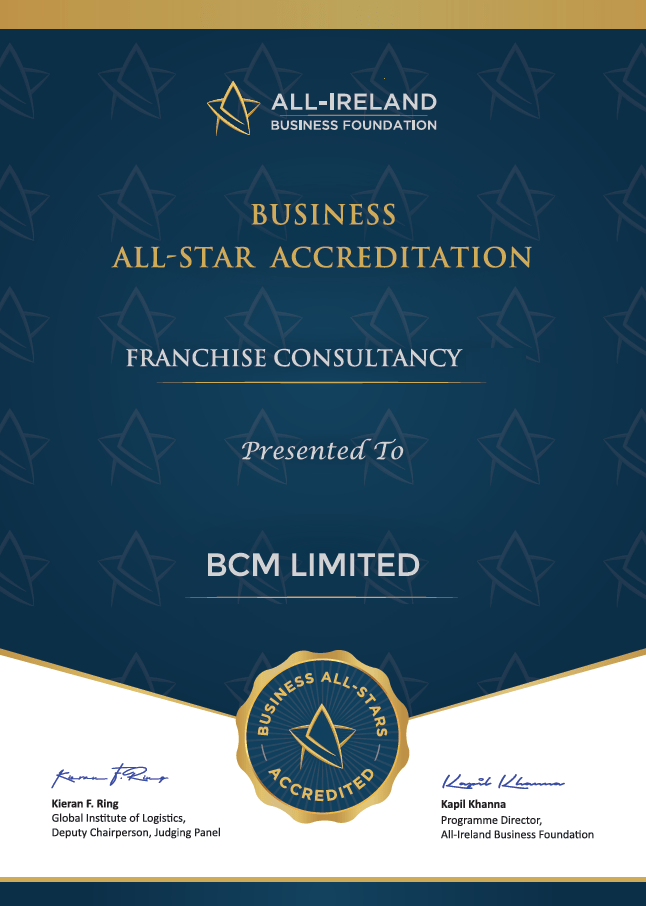 BCM Ltd. Winner Of The Franchise Business Consultant Award 2020
The All-Ireland Business Foundation is the national body responsible for identifying and accrediting Best-in-Class Irish businesses as Business All-Stars. The Business All-Star accredited companies are progressive indigenous businesses that meet the highest standards of verified performance, trust and customer centricity.
BCM has recently achieved a quality mark signifying it meets the highest standards of service and trust.
BCM - Winner of the Franchise Business Consultant Award 2019
Given its own successful track record in franchising, BCM now advises other companies on how they can franchise their own business.
BCM has recently achieved a quality mark signifying it meets the highest standards of service and trust in this space.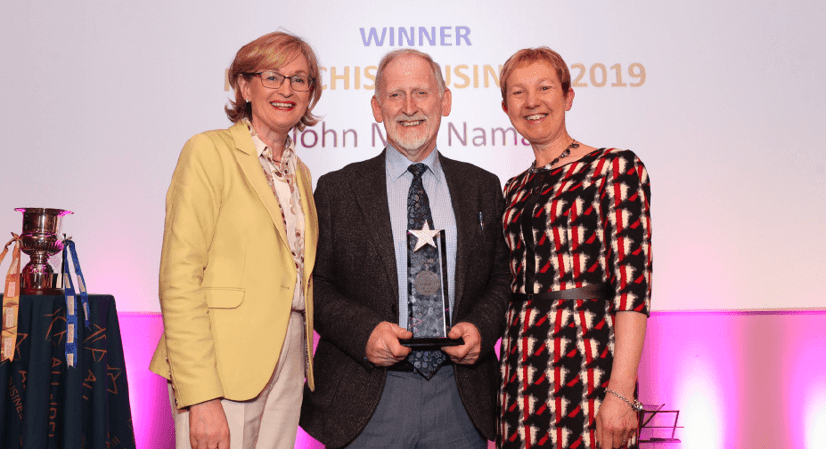 Lifetime Achievement Award Presented to CEO of BCM Ltd. 2018
BCM CEO John Mac Namara was awarded the coveted All-Ireland Business Foundation Lifetime Achievement award in 2018 in recognition of his many years operating a successful national and international business.
The Winners of Irish Franchise Awards 2016
The Irish Franchise Awards celebrated their twenty-first birthday this year, it is now one of the longest running business award ceremonies in Ireland. 
This year's ceremony took place on Friday, April 22, at the Radisson St Helen's Hotel in Dublin. The awards recognise excellence in franchising and reward outstanding achievements of businesses and individuals in the franchise industry.  
The judging panel for the Franchise Awards included: – Newstalk Business Presenter and former Irish Dragon Bobby Kerr, Orla Nugent, Director Executive MBA, UCD Michael Smurfit Graduate Business School, Greg Swift, Head of Enterprise at Dublin Local Enterprise Office, Michael Bradley, former CEO of the Irish Franchise Association and Elaine O'Regan of the Sunday Business Post. The award categories represent both retail and service industries across twelve categories.
WINNERS OF THE IRISH FRANCHISE AWARDS
Best Irish Franchise Trading Internationally
Winner: BCM Business Cost Management Ltd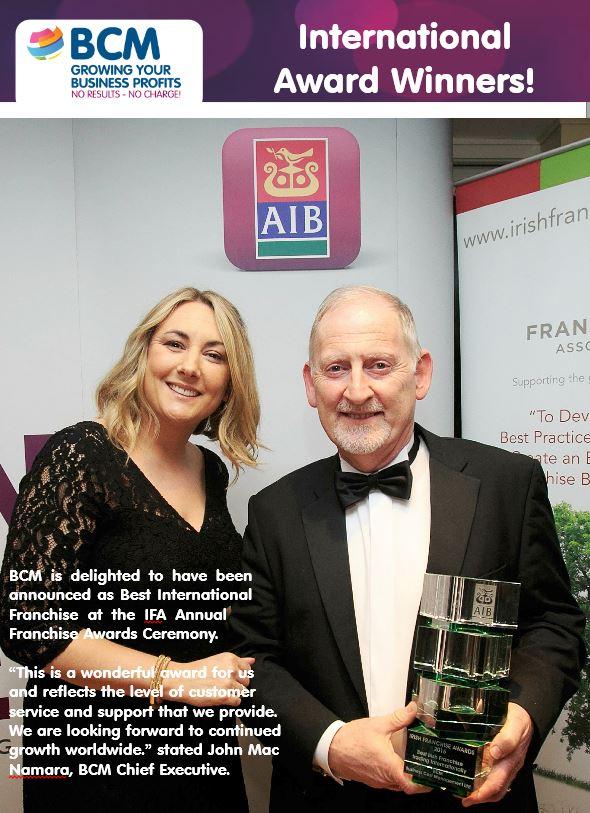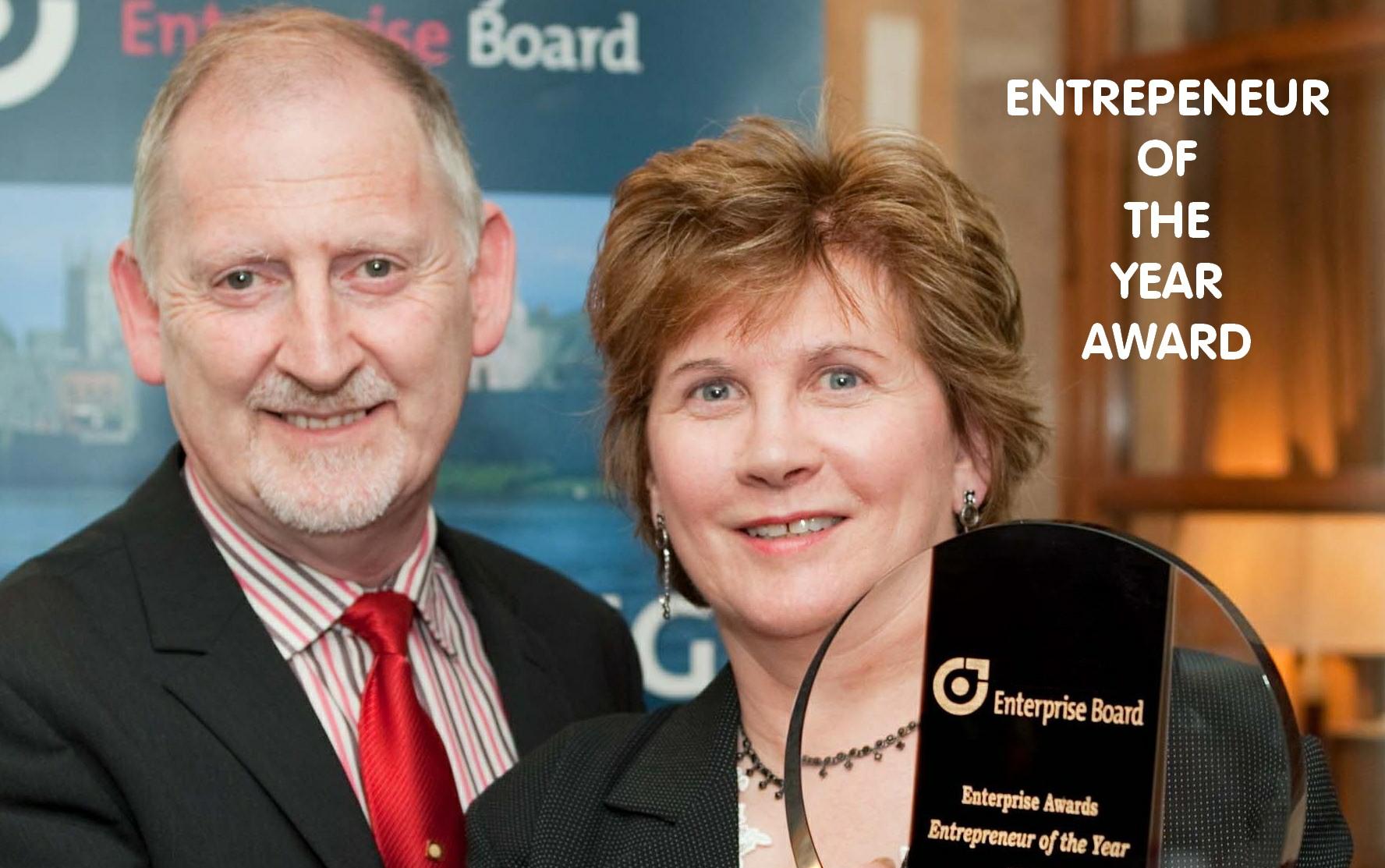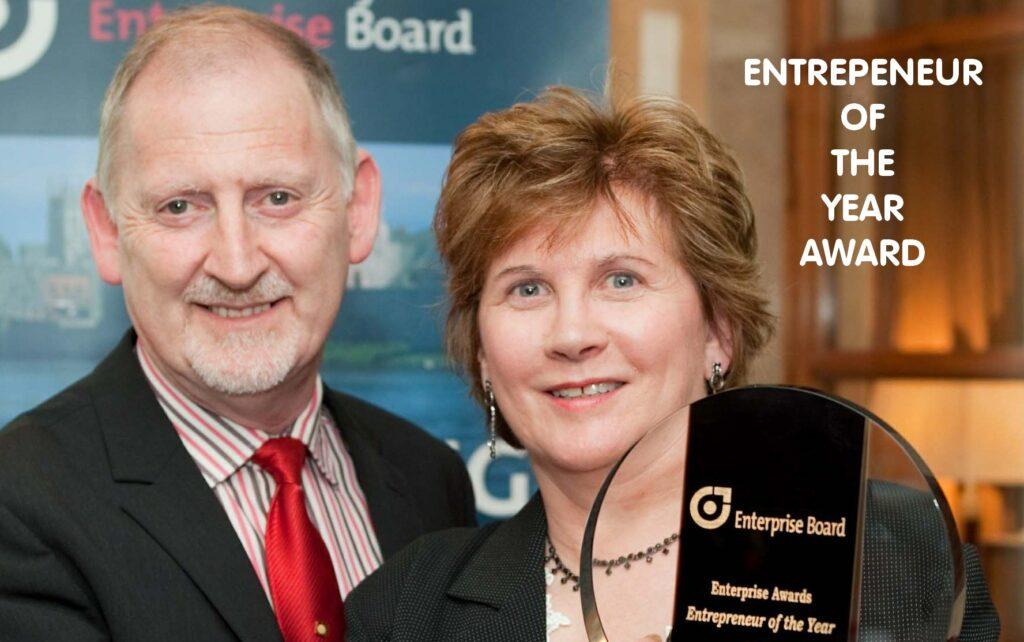 BCM Business Cost Management Ltd scoops Entrepreneur of the Year
Enterprise Awards 2012 Limerick City Enterprise Board today announced BCM Business Cost Management Ltd. as the overall Entrepreneur of the Year at the Limerick City Enterprise Awards 2012. The competition is part of the National Enterprise Awards organised by the County and City Enterprise Boards (CEBs) to give recognition to the contribution of micro enterprises to the national economy. BCM Business Cost Management Ltd. is a world's leading Cost Management company with offices in 16 countries. BCM has an experienced team which, throughout the years has assisted small, medium and large organisations to reduce their ongoing cost base with significant success in all sectors. 
Said John Mac Namara, Founding Director of BCM Business Cost Management, "We are delighted to win this award here today, we have been a client of Limerick City Enterprise Board for many years and have availed of the Board's training, mentoring and business advice during those years which has assisted our growth tremendously.
WINNERS OF THE Entrepreneur of The Year 2012
Winner: BCM Business Cost Management Ltd
UK National Government Opportunities (GO) Excellence in Public Procurement Award 2016/2017
The Winners and Highly Commended entrants for the National Government Opportunities (GO) Excellence in Public Procurement Awards 2016/17 celebrated their achievements at the sparkling Hilton Manchester Deansgate on Tuesday. 
The sell-out event was hosted by TV presenter Sarah Heaney, who led the way in the grand finale to the National GO Awards' biggest ever event, which demonstrated in style just how much the GO Awards have evolved over the past few years. 
The GO Awards supported the Realising Dreams Foundation – a registered charity, set up by BiP Solutions in 2014. Opening the black tie event, Grahame Steed, Managing Editor of GO and Chair of the Judging Panel said: "This was our third year back in Manchester and what a truly tremendous night it's been! The standard of submissions and amount of entries was staggering, so much so that we had to increase the number of award categories on the night to cater for the huge number of sectors involved. Well done to everyone involved this year, you really were testing yourself against the best of the best!" 
Sally Collier, Chief Executive Officer at the Crown Commercial Service said that "procurement is the lynch pin in devolution". She was a passionate member of the panel of judges, made up of experts in the UK procurement and commissioning which included Ainslie McLaughlin, Director of Procurement and Commercial at the Scottish Government.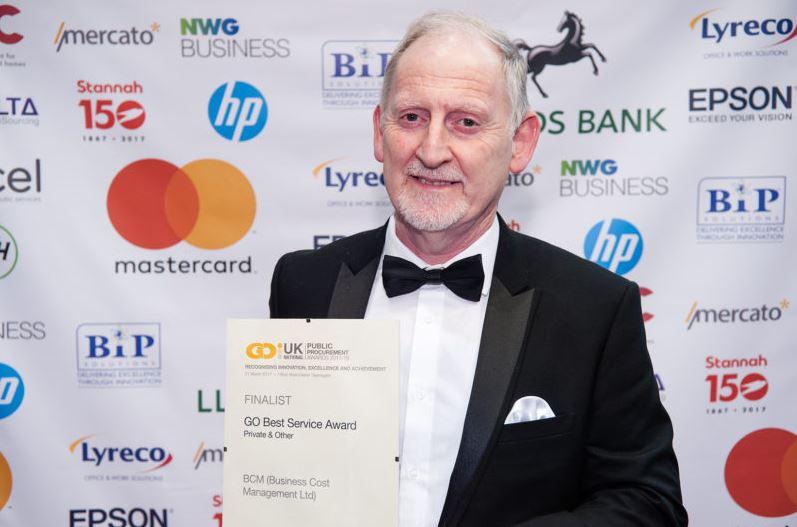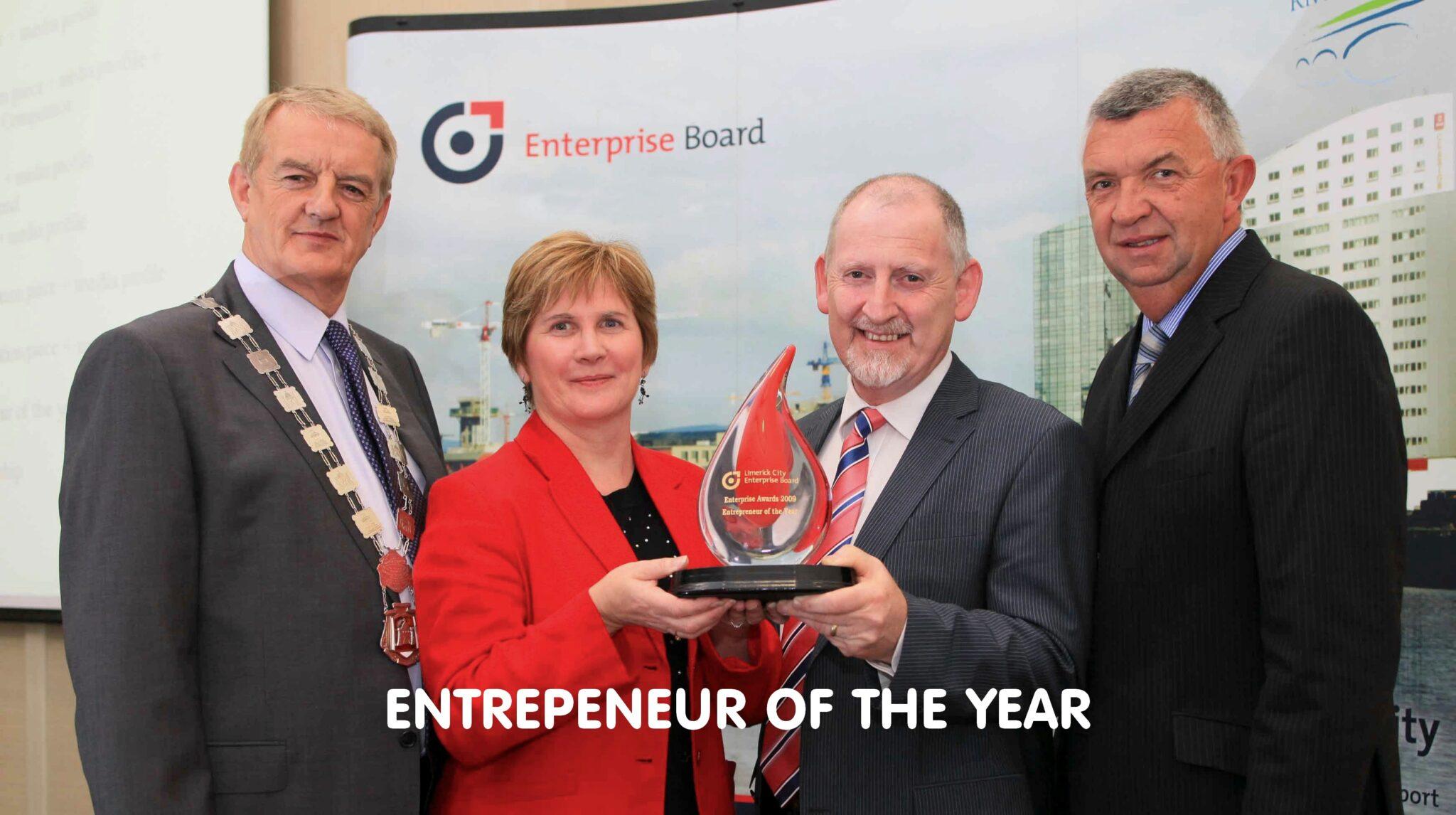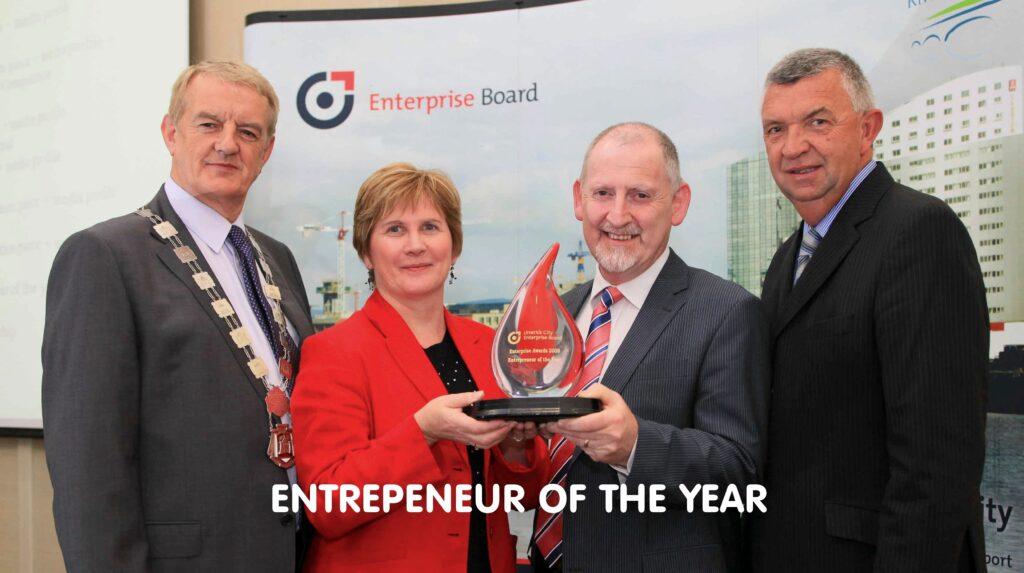 LCEB Acknowledge Businesses at 2009 Enterprise Awards
Limerick City Enterprise Board has announced the winners of the Enterprise Awards at the Business Lunch last week where the gathered business community paid tribute to the exceptional work of those striving forward in their respective fields. 
Business lunch guest speaker Liam Ryan, MD of BMS Ireland presented his unique perspective on business in Ireland today, including some food for thought on how to survive in the current business climate. 
Speaking at the Business Lunch and Enterprise Awards event, Eamon Ryan, CEO Limerick City Enterprise Board said that "the
enterprise awards are a very important part of the Enterprise Boards enterprise awareness programme and that it is important to highlight those businesses that are successful, growing and creating employment in Limerick City". 
Eamon Ryan congratulated each of the winners and commended the numerous client companies who entered the Awards competition. He said the standard was extremely high and once more confirmed that Limerick possessed a very strong and innovative entrepreneurial tradition.
Entrepreneur of the Year Winner : John Mac Namara of BCM Business Cost Management Ltd.
Junior Entrepreneur Program
Since 2010, the junior entrepreneur programme (or JEP) has given more than 40,000 primary school pupils on the island of Ireland the opportunity to experience practical, real-life Business learning as part of their formative education.
Running over a 12 to 16 week period during the school year, JEP nurtures creativity, independence and problem-solving among pupils of all abilities, with every aspect of the programme seamlessly blending into the primary school curriculum. JEP doesn't interrupt your child's education – it enhances it. And because it's a not-for-profit initiative, it's completely free of charge for all schools to participate.
Under their teacher's guidance, and with the inspiration of participating local entrepreneurs, your child and their classmates will discover their strengths as individuals and as part of a team.
Together, they'll choose, develop and produce their product or service from scratch, all the way to making it available for sale at a school-hosted JEP showcase day. They'll even be able to invest a small amount of their own money in their idea – and maybe even earn some profits.
Over the past 5+ years John has participated in the JEP programme with fifth class students, and it has been an incredible success.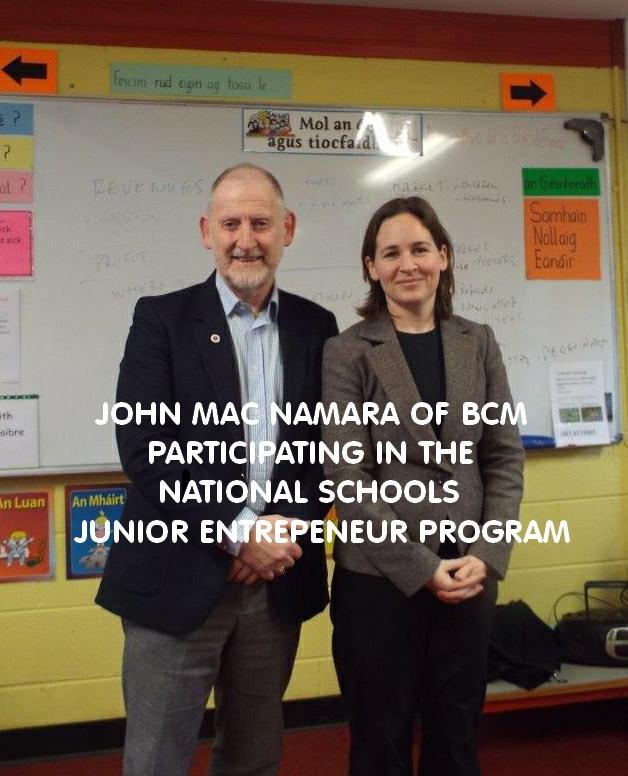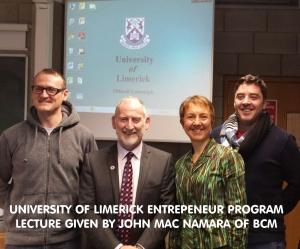 The focus of the Entrepreneur program at University of Limerick is around developing students entrepreneurial behaviour and generating business opportunities. The programme provides students with the specialist knowledge and a practical understanding of the key tasks required to establish, manage and grow a new venture in a challenging international business environment whist building the students network of professional contacts in the area of small business. The programme is designed for graduates who wish to start an entrepreneurial venture; those who wish to work in small and medium firms or as trainers and consultants with small and medium enterprises. The programme invites entrepreneurs, government agency, financial institution and venture capital representatives to share their experiences on different aspects of starting and growing a business internationally and provide an enhanced targeted network of contacts for future personal and business development opportunities.